Now we're going upscale. To have a tactile perception of a print product – to imagine the motif. Truly, a dream! Embossing without print – blind embossing. The more precise the impression, the more delicate the motif that can be embossed.
Even multi-stage embossing or relief embossing is possible. Creating a relief requires a steady hand and precise contouring. Experience and artistry are united here to produce an exact handcraft. The print product develops into several dimensions. Texture embossing, as the name implies, embosses elegant, robust, fine, crisp or delicate textures onto the printing substrate. It enhances a design's expression.
Vice Versa: De-bossing is so to speak the opposite of blind embossing. The motif is not raised but rather recessed into the material.
Blind embossing engenders 3-D images and raised text elements within your print project by means of a metal die, or embossing stamp. The visual effect is achieved entirely through light and shadow patterns – completely without the use of color. Depending on the type and thickness of the deformation – be it sharp edges, various angles or de-bossed elements – a more or less intense three dimensional effect can be achieved using blind embossing. The blind embossing technique also makes possible the transferring of structures.
When choosing the print substrate, consideration should be paid to the fact that the deformations created by blind embossing will be visible from the reverse side as well. Changes to the printing image, which becomes a little bit wider, should also be taken into consideration when selecting a motif.
Examples for Blind Embossing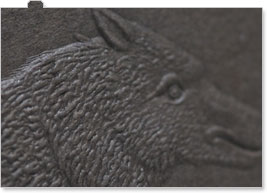 Finishing Services:
Blind Embossing
Finishing Services:
Blind Embossing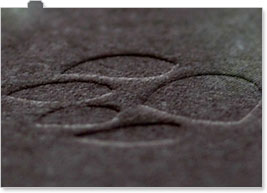 Finishing Services:
Blind Embossing
Finishing Services:
Blind Embossing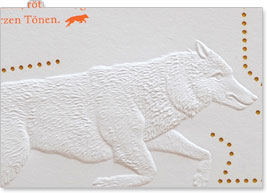 Finishing Services:
Blind Embossing
Laser Puncing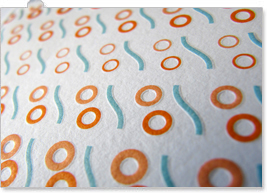 Finishing Services:
Blind Embossing
Finishing Services:
Blind Embossing
Finishing Services:
Blind Embossing