Whether large or small print runs, Wolf-Manufaktur's extensive machinery can find a solution for any form in any circulation. The die cutting of miniature forms is just as feasible as such forms requiring machines whose cutting head can rotate 360 degrees. We have available seven different die cut systems for the perfect production of our…pardon me…your products. We'll find the most suitable die-cutting option for you. As you see, we also fall in love with your products and tend to treat them as our own.
Why not punch your favorite motif and laminate it onto a second print sheet? Amazing, isn't it? This can be done even more effectively with laser punching, but more about that later.
An EPS file is usually the suitable file format for the die-cutting process. You can, however, also save the desired form as an extra level or color in your Xpress document. Our savvy DTP-experts would be pleased to guide you. And, of course, we'd also be pleased to advise you in the run up to your order of what is feasible and what not! Just ask us!
Specially-designed punching tools enable a mechanical cutting out of any desired form from the printing substrate. This allows, for example, the emphasizing of certain image elements or a glance at sheets that lie beneath. As a separate tool must be manufactured to execute the punching process, this service is worthwhile especially for larger print runs.
The punching process must take into account the surface beneath, the print project's edges and even its design, as the case may be. Coated and uncoated – preferably long-fibered – paper of any grammage, as well as other materials including cardboard packaging, foils or metals may be punched.
It should, however, be kept in mind that punching negatively impacts the substrate's stability. The extent of this is determined by the size and shape of the punched area.
Examples for Die-Cutting
Finishing Services:
Die-Cutting
Finishing Services:
Die-Cutting
Hot Foil Relief Embossing
Hot Foil Stamping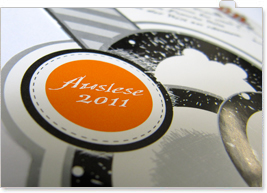 Finishing Services:
Die-Cutting
Finishing Services:
Die-Cutting
Finishing Services:
Die-Cutting
Partial UV-Varnish Application
Finishing Services:
Die-Cutting